Cheers mate,
Weird, I'm more into the other 3.
The Yellowcard might be my favorite.
The painting is pretty new... can't stop staring at it.
I can't afford to go nuts on paintings... slippery slope to the poorhouse. Trying to keep it limited to only one.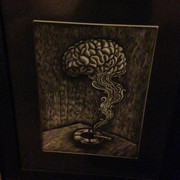 Might trade this one?