We traded a D&C butterflies for a PJ Telluride AE.
I really wish i was more savvy at posting our correspondence with dates because it's all there.
Me asking about the posters condition.
Telling him he has to be my eyes because the photos are blurry.
Him refusing to disclose damage, telling me he will send first.
I checked his feedback and it's almost as long a list as mine, so I took his word for it and trusted him.
The poster showed up like this.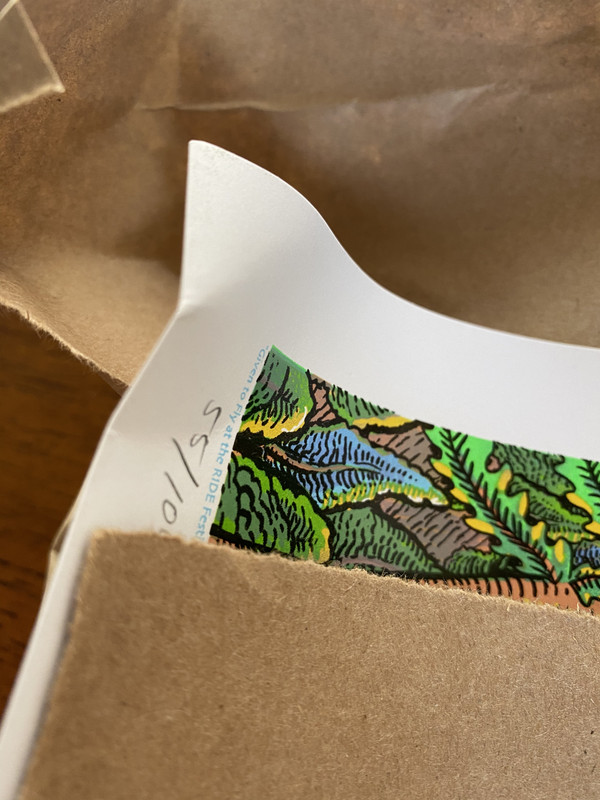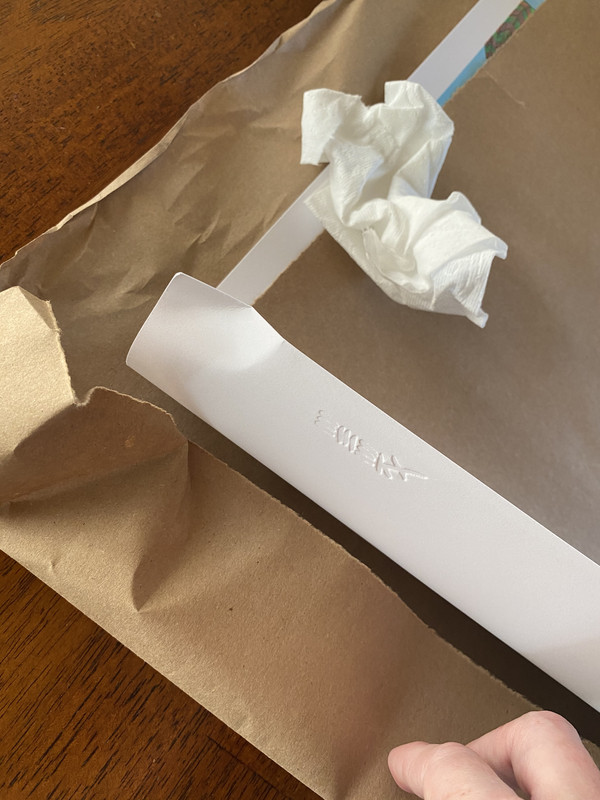 When unrolling I felt a weird Subtle pop and toilet paper popped out.
That's the new damage...
Then upon closer inspection it has two existing edge dings.
I blew up the blurry pictures and there they are.
And a weird line through the corner I asked about, and could live with.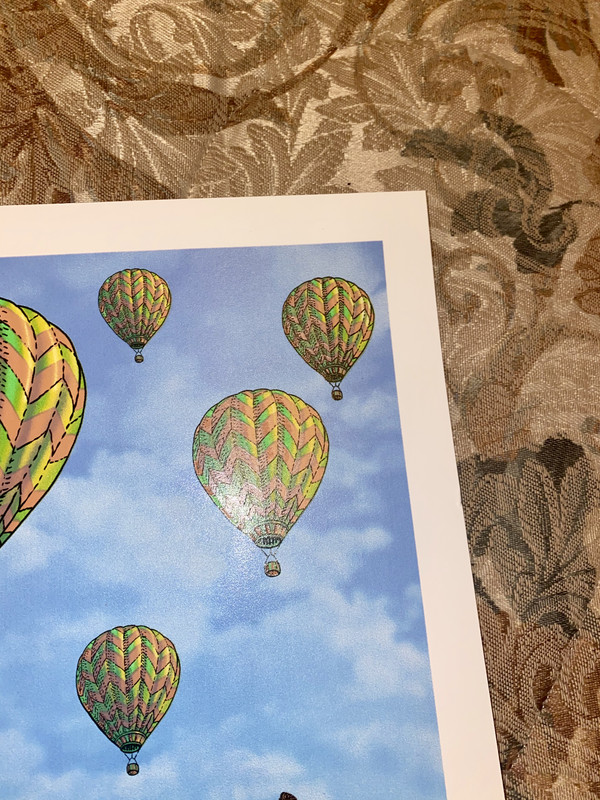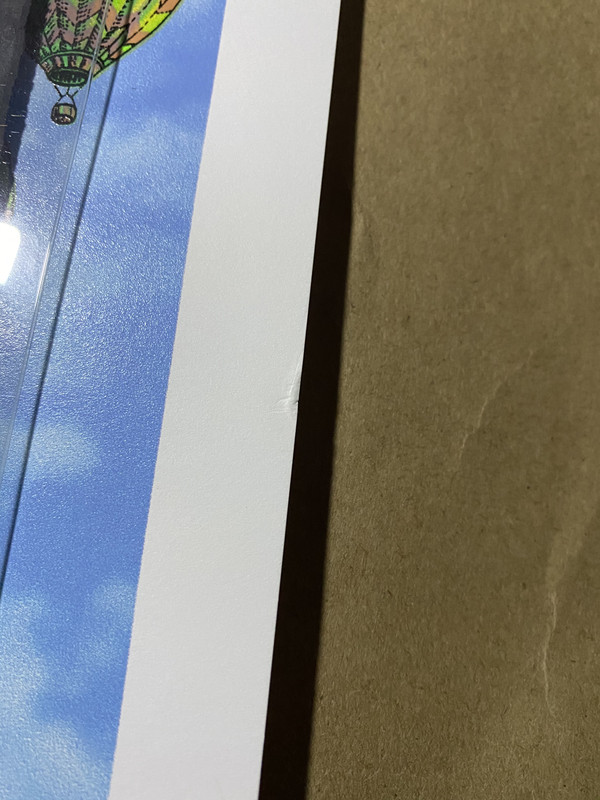 Top pic his.
Bottom mine.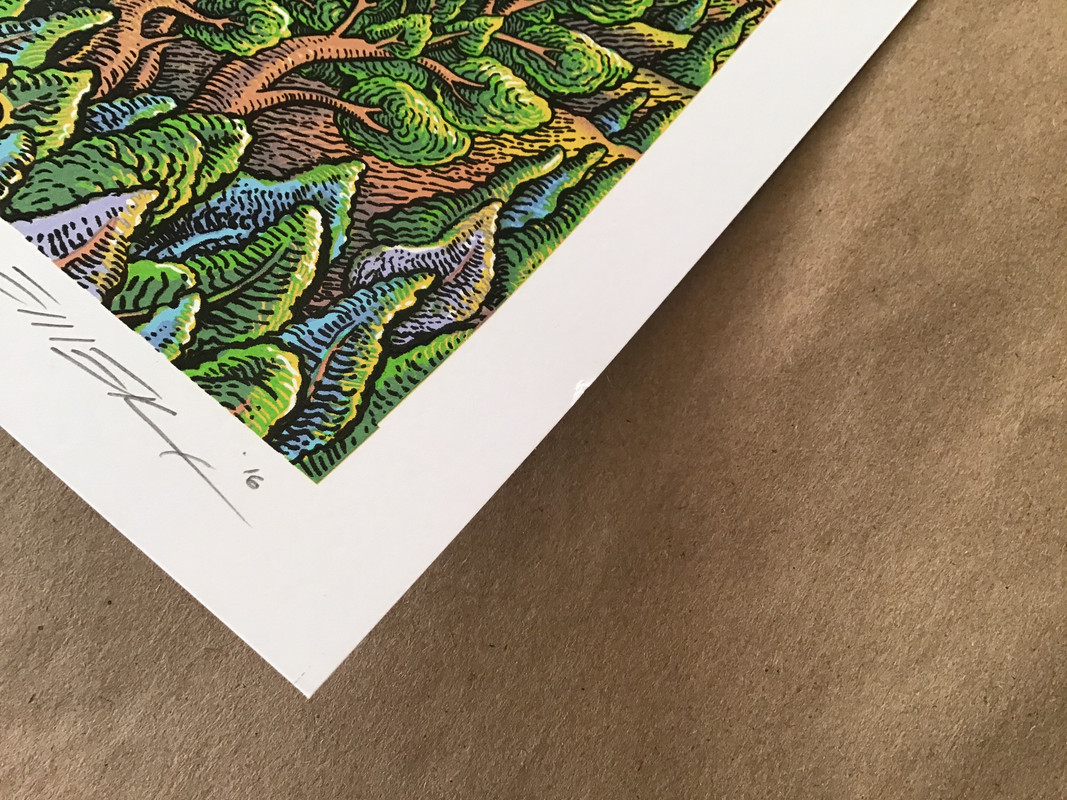 Top pic his
bottom pic mine
I wrote a cordial message explaining that I've received 3 posters all month...
All three damaged.
The previous two I did the easy / cool thing and accepted a discount.
I was cordial when explaining I was reluctant to do it again and would like to not go that route.
Somehow I turned into a bad guy.
As far as the bottom left corner:
This has happened to me before.
About 15 years ago I send lightyears an Emek built to spill.
I folded the corner in when I rolled it.
It also occurs when an end cap is pushed in and it catches the fold.
The end cap was fine.
I've been trying to bring this to a close but this trade happened sept 15, after a 2 week lag by usps in getting it here.
Me:
Greetings...
Ok. Cool.
Not sure what you mean by work with me on this, but I'm ready to wrap this up.
You won't accept the return you had offered?
The existing unmentioned dings would have been a deal breaker 100%. I could have lived with the line in the corner. But the other two edge dings are glaring. The top one is substantial.
Chalk it up as an honest mistake and let's move forward?
I can wait a bit if you are tracking down a better copy of the telluride?
Thank you Jim
Imatruck:
Thanks but under the circumstances that won't work. I'll continue to try to work with you, but given the events that happened and the fact the tube wasn't even damaged we certainly can't be sure that you didn't cause this damage removing from the tube the more I think about it. I certainly won't be responsible for something I didn't cause. Have a good evening. We"ll keep trying to figure something out but that's not going to be a solution I agree too.
Then I looked the poster over and saw the existing issues.
Sent this message with the pics.
Me: Well, I looked the print over after flattening and saw this. Thought it might be associated with the
other area but I went through your pictures and I can see it.
Imatruck:
You're really something bro....I'm exhausted from a long day of work and don't have the energy right now...but your really something. Good night...I'll deal with this another time but maybe there is a reason you seem to consistently have trouble
Me:
I don't understand.
Not sure why I'm paint as the jerk here.
All I did was open a tube with a dinged poster inside...
I've tried to remain understanding, but I don't get it.
Every trade we as sellers have to tell buyers of condition issues when they ask.
The pictures were blurry so I asked for you to be my eyes. Our entire correspondence is here.
The corner I asked about has a weird line through it.
There are two dings in the right margin.
One is substantial.
I found both on a large screen computer when I blew them up, existing damage.
I don't understand how those 3 things weren't mentioned before sending.
I asked specifically.
I have to take you up on your stated trade offer of sending back. No other course of action.
I've never been anything but accessible, respectful, and ready to work to fix this...
Sorry it didn't work out.
Will wait to hear from you, and ship on Monday.
It will be packed carefully to ensure it doesn't get damaged further.
Also, I of course would still accept a mint Emek Telluride PJ AE and complete this trade if that is an option that may assist you.
Just can't do this trade with #55...
Thank you, Jim
Hola,
Not sure what you've been working on for the last 4 days... but I'm ready to wrap this up.
Again, minus the huge wrinkle that occurred somehow, there are 3 existing areas that you decided not to tell me about.
Our agreement was that if the print had existing issues I would send back.
Seeing how we both have extensive feedback, I felt stupid waiting to get the tube before I mail...
After all you sent pictures with no mention of damage, even after I asked you to be my eyes.
No one sends blurry pics and says tough fudge if the buyer can't see three spot of damage. I asked.
This whole mess could have easily been avoided if you simply pointed out the dings and the line through the corner I actually asked you about.
I would have never accepted anything other than mint.
A mint copy would have almost evened out the trade value on the near mint dead and company.
This copy is Obviously not within our agreement.
I am more than happy with our original trade agreement.
If you don't want to trade back, i would still need a mint Emek PJ Telluride AE...
I've been pretty patient throughout this mess, although you misunderstood my post about previous Sept damaged tubes.
Those EB members fixed the problem immediately as I do... as we all do on this site.
I'm concerned... we did this trade over a month ago.
I'm ready to ship this.
Thank you, Jim
After a week I get this today.
Not sure what I've been working on? I've been working on life with a job and kids and this doesn't consume me bro. Again, I sent you many pictures and you seemed totally fine with them BEFORE I SHIPPED...then you get the poster and who knows what the hell happened or what either you, or someone else did to it which wasn't a result of anything I did. I also immediately offered to pay you back some cash and file a claim for you.....both of which you seemed to think wouldn't work. It sets a ridiculous precedent if someone receives a poster after being sent many pictures then creates a ridiculous amount of damage to the poster and wants to return it. My offer still stands to send you $100, then file an additional $100 claim, that will ensure you work with me though the process with the post office. My life is too busy and my time too important to keep going through these motions with you, again happy to work with you, but your solution makes zero sense to me. By that standard, anyone can drymount up a poster and demand to send it back...makes no sense. The damage created was not caused by me and you very well know that. I stand by my feedback and how I pack and ship posters and again never had a problem with one single person in over 22 years. So let me know what you want to do....and we'll go from there....but we seem at an impasse here and most likely running out of time on a claim...so your call if in fact the post office messed it up...but I'm not so sure anymore about that story. And again...I've always gotten back to you...but my life is not on the computer...so don't expect instant gratification to your messages with your snide comments about what Ive been working on.
I'm asking for help...
Those who know me, know I would have fixed this immediately.
I'm about to get ripped off.
Thanks for the time, Jim