This would have been in a frame sooner, but emergencies at work had me working late most of the week -- and when I wasn't working, I was catching up on lost sleep.

As much as I love Escape from the Planet of the Apes, I love Star Trek II MUCH MUCH MORE, so Escape went back into the portfolio and Khan took its place. I only brought the variant back to my house from Austin (I don't really know why), but I'm wishing I'd brought the reg too so I could have seen what it looked like in this frame. I'll remedy that sometime next month; I'm sure it will look fantastically retro.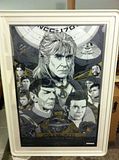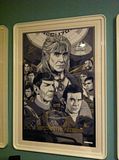 Here is my living room "sci-fi" wall as it's progressed so far.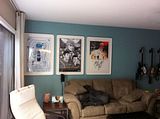 The pictures are fudge, as usual, because I can't find the charger for my nice camera.

The space to the right of THX will probably hold Danger's Star Trek: TMP print once I cut a mat for the last space frame.